NWDC: The Ultimate One-Stog Shop
by Greg Trauthwein
The emcient adoption and integration of leading edge, off-the-shelf technologies; seamless cooperation among military branches and entitlejft and procurement of a vessel, in record time, on a "handshake ... with the paperwork later" is not the commonly held perception of the U.S. Navy. But the work beinMconducted in Newport, Rhode Island, home of the Navy Warfare Development Command (NWDC) under the leadership of Rear Admiral Robert G. Sprigg - simultaneously developing Concept, Technology and Doctrine - is anything but common. — by Greg Trauthwein There is no short or simple way to describe the work taking place by NWDC at its historic Sims Hall location aboard Naval Station in Newport, R.I., other than to say that it delicately balances current and future needs while helping to identify, develop, test and document the products and systems that will keep the U.S.
Navy the strongest force on the world's waterways.
NWDC is responsible to no one and everyone all at once, and as Rear Admiral Sprigg so adequately described: "We (NWDC) are needed ... we are incredibly valued ... and we could be dis-established at any minute." Established in 1998, NWDC is challenged with the formidable task to focus and champion warfare innovation and concept development, to identify the required organizational capabilities which flow from validated concepts to design, plan and coordinate the Navy's Fleet Battle Experiment Program, to synchronize, approve and disseminate navy doctrine, and to represent the Navy in joint experimentation. (See Figure below). In essence, NWDC is tasked with not one simple part of the developmental equation, rather it combines Concept, Technology and Doctrine. There is no other place in the Navy, or the military for that matter, which is tasked with the co-evolution of fighting concept, technology and procedure, said Rear Admiral Sprigg. The mandate requires a "think outside the box" mentality, which emanates from his desk and flows down through the organization.
NWDC is far beyond the scope of evaluating simply a vessel or system, for example, rather plugging that piece into the overall puzzle, helping to create the path that will lead to the look, content and fighting capabilities of tomorrow's Naval forces. A current project, which has commanded a large part of NWDCs attention and R&D dollars is the Joint High Speed Vessel Experimentation Project, which is a 12-month joint experimentation project for the Army, Navy, Marine Corps, Special Operations Command and Coast Guard aboard the Joint Venture (HSV-XI), a 313-ft. (95.4-m), 40+ knot fast craft built in Australia by Incat.
The Need for Speed It is not a far stretch to assume that a man who was selected for Test-Pilot Training at the U.S. Naval Test Pilot School, and whose Hying experience includes more than 3,500 flight hours in tactical jet aircraft and more than 500 arrested landings in more than 20 different aircraft is enamored with speed, be it on land, water, or in the air. The excitement with which Rear Admiral Sprigg regards the capabilities and multifunction possibilities of a new breed of high speed, shallow draft, high capacity vessels is palpable. It should be noted that, while the experience with Joint Venture to date have been a resounding success, which is echoed throughout the NWDC organizationglft is viewed as a surrogate technology, to be used for evaluation in determining the final look, feel and capability of a new product.
While the speed is impressive, the complete package currently embodied in Joint Venture is. in Rear Admiral Sprigg's estimation, a combination that cannot miss with military decision makers.
I don't know how and when, but it (high speed vessels) will re-balance our naval force composition, he said.
Forced to "go big" during the Cold War year military build up, the U.S. is facing a much more diverse, smaller and elusive target, which a large carrier group simply is not designed to fight.
"(The terrorism attacks) have changed the balance of operational challenges, and has had a ripple effect throughout the entire organization," said Rear Admiral Sprigg. "It brought what we thought was potential to reality," and it represents as broad of a swing as possible from the Cold War, bringing up the need for new tools.
While speed is not the sole factor, of course, in determining the Navy of the future. Rear Admiral Sprigg believes that its impact with represent a watershed event in the history of he Navy "We (NWDC) are needed ... we are incredibly valued ... and we could be dis-established at any minute." RADM Robert G. Sprigg, USN, Commander, Navy Warfare Development Command Central to the "Streetfighter" concept of a large number of small, fast, multi-mission vessels is the need to have in place a seamless information collection, dissemination and analytical capability — termed Expeditionary Sensor Grid by NWDC — which allows the vessels to penetrate and successfully complete its mission without carrying the enormous quantity of equipment and systems typically found on Navy ships today. For example, the Naval craft of the future might not carry the full complement of equipment necessary to detect, as an example, a cruise missile attack, but it will be capable of "plugging" into a system that is equally effective in determining and thwarting such an attack.
"You can have a multi-mission ship with no inherent weapon system, making the design parameters as wide as your imagination," said Rear Admiral Sprigg. Joint Venture embodies many of the values RADM Sprigg deems necessary — high speed, shallow draft, multi mission, large carrying capacity, RoRo capability. "This ship is meant to move 'stuff ... our (the Navy's) 'stuff is different than commercial cargo, but it is still 'stuff.'" The story of how Joint Venture was acquired is nearly as impressive as the vessel itself, as it was accomplished through an uncommon cooperation among military branches and an unbelievable swiftness. Rear Admiral Sprigg said once the vessel was identified and determined worthy of evaluation, the "Joint Venture vessel was gotten on handshakes and phone calls, with paperwork to follow."Central to getting the vessel from commercial craft to military ready — taking an astoundingly brief 5.5 months from decision to arrival in the U.S. — was the cooperation and professionalism of the Incat yard in Australia and the steady guidance of Commander Dean M. Chase, the project manager for High Speed Vessels from the Maritime Battle Center.
Getting a surrogate to test the new technology was no simple matter, though, as Chase said: "It started out with 100 ideas as to what this ship should be. Through four workshops, it came down to Joint Venture." Another factor in making the process a swift one is the broad use of off-the-shelf technology - modified for the military - in readying the vessel for test.
Chase echoed Rear Admiral Sprigg's assessment of Joint Venture to date, particularly when noting that the vessel recently completed a trans-Atlantic voyage in five days and 17 hours, a 27-knot average across stormy Atlantic winter seas. "That's just amazing," he said. "Keep in mind, we're using this vessel for more than it was intended." Aside from the technical aspects, Chase maintains a literal juggling act of missions scheduled and completed on Joint Venture, helping to simultaneously meet the goals of its mixed crew, which includes 24 Navy (including two from Special Operations Command), six Army and one Marine.
Need more information? Visit www.nwdc.navy.mil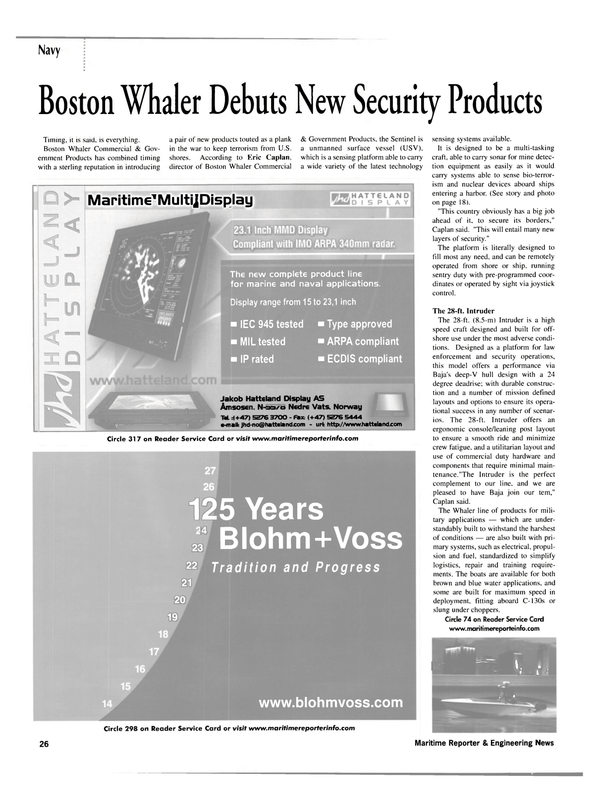 Read NWDC: The Ultimate One-Stog Shop in Pdf, Flash or Html5 edition of April 2002 Maritime Reporter
Other stories from April 2002 issue
Content