Key Port Security Measure Passed
H.R. 3983, the "Maritime Transportation Antiterrorism Act of 2002," was passed by the House Transportation and Infrastructure (T & I) Committee on March 20. The legislation was introduced by the bipartisan leadership of the Transportation Committee, including: Rep. Don Young (R-Alaska), Chairman, Transportation & Infrastructure Committee; Rep. James Oberstar (DMin..), Ranking Democrat, Transportation Committee; Rep. Frank LoBiondo (R-N.J.), Chairman, Coast Guard & Maritime Transportation Subcommittee; and Rep. Corrine Brown (D-Fla.), Ranking Democrat, Coast Guard Subcommittee "We thank Chairman Don Young (REnhanced Ark.) of the House T & I Committee, and Subcommittee Chairman Frank LoBiondo (R-N.J.) of Coast Guard and Maritime Transportation, for their leadership on moving to address maritime security," said Kurt J. Nagle, president of the American Association of Port Authorities (AAPA). "We are encouraged about the $225 million authorized for Federal grants to help ports enhance seaport security, and the local flexibility provided for vessels and facilities to address terrorism at America's ports.
AAPA strongly supports enactment of Federal legislation to address maritime security." Overall, H.R. 3983 takes a slightly different approach than the Senate bill, S.
1214, "The Port and Maritime Security Act of 2001. " It is focused solely on terrorism and is not as detailed on planning requirements. The bill only covers areas that the Department of Transportation (DOT) determines are at risk of having a catastrophic emergency in the event of a terrorist attack. Also, because of jurisdictional limitations of the committee, the bill only focuses on DOT activities, not those of the U.S. Customs Service.
The bill is modeled on the Oil Pollution Act. in which Congress outlined broad planning requirements but left most of the details to the discretion of DOT. Like S. 1214, it requires a family of plans, including national, area and vessel/ facility plans. H.R. 3983 calls for grants over three years totaling $225 million (less than S.1214, which over a five-year period, calls for $390 million in grants), but limits them to technology.
The Maritime Transportation Antiterrorism Act of 2002 Port Security Section 2 of the bill creates a new subtitle VI of title 46, United States Code, to establish a comprehensive national system of antiterrorism security enhancements. Chapter 701 of this subtitle contains provisions related to port security.
New section 70102 of title 46 requires the Coast Guard to conduct port vulnerability assessments for U.S. ports, including an assessment of the vulnerability of each facility in a port, at which there is a high risk of a catastrophic emergency. The results of the vulnerability assessments will be used to implement a national maritime transportation antiterrorism planning system, consisting of a national plan, area plans, as well as vessel, facility, and port terminal plans, to deter a catastrophic emergency to the maximum extent practicable.
Section 70103 requires that vessel and facility antiterrorism plans be submitted for approval to the Coast Guard, by vessels and facilities involved in a cata- strophic emergency. The Coast Guard may also require each operator of a vessel or facility to implement interim security measures until their antiterrorism plan is approved. The Coast Guard will integrate the local vessel and facility antiterrorism plans into area and national plans, with the advice of local harbor safety committees.
Section 70104 requires the Coast Guard to cooperate with the Director of the Federal Emergency Management Agency to coordinate maritime terrorism response actions. This section also requires the Coast Guard to develop a system of terrorism response for vessels. Section 70106 establishes Coast Guard maritime antiterrorism teams to protect vessels, ports, facilities, and cargo on United States' waters. Section 70107 allows the Under Secretary of Transportation for Security to provide financial assistance for enhanced facility security to implement a maritime antiterrorism plan approved by the Coast Guard or an interim measure required by the Coast Guard. For each of fiscal years 2003, 2004, and 2005, $75 million is authorized for the grants. Section 70108-70110 requires that the Coast Guard assess the effectiveness of the antiterrorism measures maintained at foreign ports from which vessels depart on a voyage to the U.S. or which pose a high risk of terrorism to the U.S.
By no later than June 30, 2003, new section 701 1 1 requires the Under Secretary of Security, in consultation with the Transportation Security Oversight Board, to develop and maintain an antiterrorism cargo identification and screening system for containerized cargo shipped to and from the U.S. directly or via a foreign port.
Coast Guard Authority To Control Vessels In U.S. Territorial Waters Section 3 of the bill amends the Port and Waterways Safety Act to require all vessels entering the 12-mile territorial sea of the United States to provide notice to the Coast Guard 96 hours before entering those waters.
This section also clarifies that the Coast Guard has the authority to direct the safe operations of all vessels in the 12-mile territorial sea and other navigable waters of the U.S. during hazardous circumstances.
Extension Of Coast Guard Jurisdiction This section would extend the jurisdiction of the Coast Guard from three miles from shore to 12 miles from shore for certain security activities when the President determines that national security is endangered.
Section 4 also creates civil penalties not to exceed $25,000 for each violation of a Coast Guard order.
Assignment Of Sea Marshals Section 7 of this bill amends the Ports and Waterways Safety Act to allow the dispatch of properly trained and qualified armed Coast Guard personnel, commonly called "sea marshals," on facilities and vessels to deter or respond to acts of terrorism.
Automatic Identification System (AIS) This section requires that all vessels built after December 31, 2002, be equipped with a position indicating transponder and an appropriate situation display for accessing the information made available by the transponder system.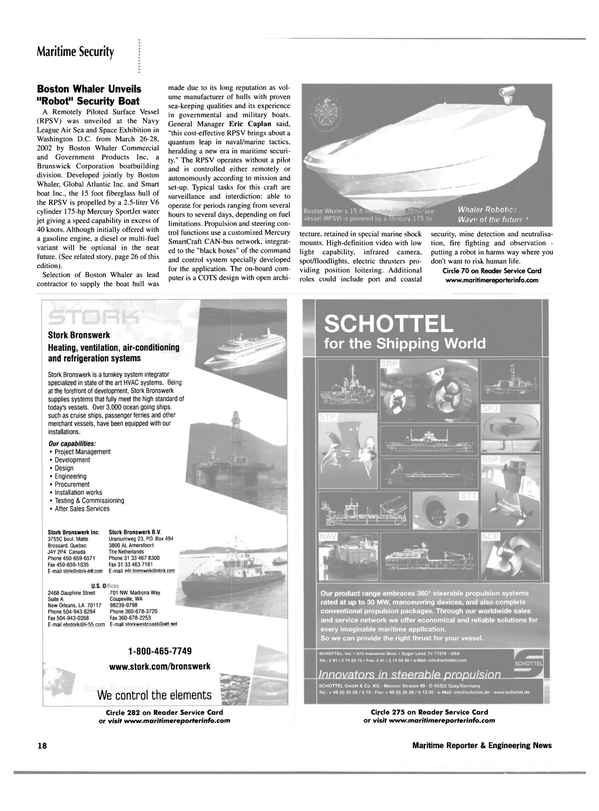 Read Key Port Security Measure Passed in Pdf, Flash or Html5 edition of April 2002 Maritime Reporter
Other stories from April 2002 issue
Content